Our Commitment to Inclusion
Being yourself at work
We are passionate about creating a workplace where all co-members feel they can truly belong. We do this by championing inclusion and belonging and building a culture of trust amongst our co-members. Our aim is for co-members to be their true self at work regardless of race, gender, age, ethnicity, religion, or sexual orientation. ​​
We are proud to promote inclusion & diversity among clients, candidates and co-members as equal opportunity employer. It's our policy to support people who hold Protected Characteristics (under the Equality Act 2010) both internally and externally through supporting recruitment practises based solely upon merit.​​​​​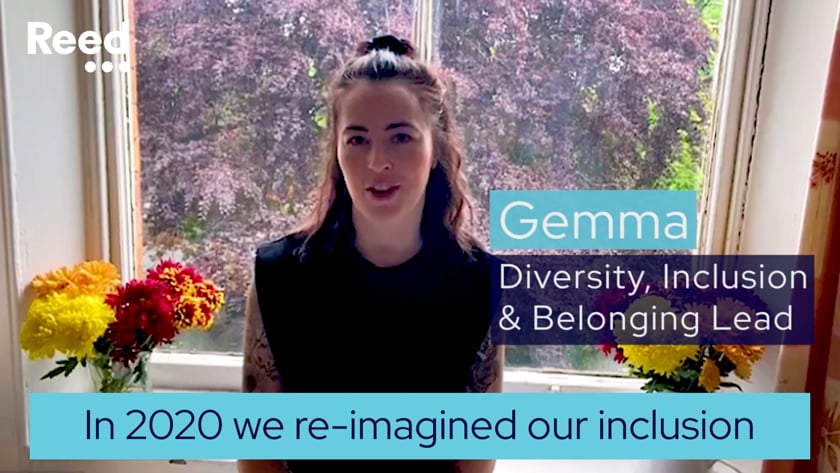 Our commitments to inclusion & belonging…
Hear from co-members from our HR teams, as well as some of our Diversity Champions from across the business, as they tell us about what commitments and changes are underway at Reed.
Scroll down below for more insights in to specific projects, celebrations and our diversity accolades, or visit our blog to find out more about the latest news and events at Reed.
Our commitment to inclusion & diversity
Love Mondays, love inclusion
Here at Reed, we prioritise inclusion and are passionate about individuals feeling welcome.
In 2019, we launched our new Inclusion Strategy, aligning our commitment business vision to our inclusion aim.
Images: Some of our leads and ambassadors across the Reed Group
Inclusion training
We encourage inclusivity through learning at Reed. We invite co-members to complete unconscious bias training and inclusive management e-learning designed to help them recognise and combat any unconscious bias in the workplace. An EDIB workshop has also been introduced to co-members, mental health and neurodiversity training. We also have a variety of additional e-learning modules associated with wellbeing, inclusion and mindfulness.
Empowering parents
Reed is also committed to reducing its gender pay gap and providing greater opportunities for women to progress into senior positions. Along with our Women in Leadership Mentoring Scheme, in 2018, we pledged to the Governments 'Working Forward' campaign and Tommy's 'Pregnancy at Work' charity to support new parents and pregnant women in the workplace. These initiatives allow co-members to:
Join a community of pregnant women and new parents
Access to the 'Pregnancy at Work Hotline', with a 24/7 specialist advice
Utilise 'Guides for Managers', ensuring they know how best to support colleagues
Supporting Women in the Workplace
Our gender working group raises the importance of supporting all genders.
One of these key topics is raising awareness around international women's day and assisting women within the business are:
Highlight stories from our successful female co-members and sharing the journeys they have been on throughout their career at Reed to inspire others.
We have powerful women within our senior leadership teams. A pledge from James Reed will seek to have; women make up 50% of its senior leadership team over the next 3-5 years. They will be there because they are good at their jobs.
To continue speaking about issues women face surrounding the menopause and how we can support people within Reed going through this life change or anyone in their life going through this.
Attracting a more diverse candidate pool
We are proud to have an inclusive recruitment process with equal opportunities available for all at Reed. With a blended selection approach including psychometric testing and telephone interviews, we aim to reduce bias through a skills based recruitment process. We also have an inclusive recruitment policy, to ensure accountability of our recruiting line managers.
We grow top talent internally year on year. We're dedicated to democratising access to opportunity and making sure everyone has the chance to fulfil their potential, whatever their
background.
Reed are proud to have signed the Armed Forces Covenant. We are committed to helping ex-forces personnel reintegrate into successful civilian careers whilst supporting Reservists within the business.
We are a proud signatory of the 'Race at Work Charter' which commits to taking practical steps to tackle the barriers that Black, Asian, Mixed Raced and other ethnically diverse people face in recruitment.
Our Commitments
(click / hover over icons to learn more)
Race at Work Charter
We are committed to improving outcomes for black, Asian and minority ethnic employees in the UK.
Mindful Employer
As a Mindful Employer, Reed is committed to supporting the mental wellbeing of its people.
Disability Confident
Being Disability Confident means applicants and employees at Reed can rest assured that reasonable adjustments will be made to accommodate any specific needs.
Armed Forces Covenant
Reed are proud to have signed the Armed Forces Covenant. We are committed to helping ex-forces personnel reintegrate into successful civilian careers whilst supporting Reservists within the business.
Stonewall Diversity Champion
Reed pledged as Stonewall Diversity Champions in recent years and proudly released its first Transitioning at Work policy in 2018.
TechSheCan Charter
Reed joined the TechSheCan charter in 2018 (led by PWC), promising to encourage & develop more young women into tech.
Member of the 5% Club
As a member of the 5% club, Reed has a minimum of 5% of employees in some form of 'earn and learn' training programme.
Care Leaver Covenant
Reed offer guaranteed interviews to Care Leavers applying for our Internship Programme, offering them hands-on experience in the Recruitment industry.
Menopause Café working agreement
In September of 2023 Reed started holding regular menopause cafés to provide a safe place to speak about this important topic whether it's sharing stories themselves or listening to others. Anyone is welcome.
Inclusive Employers Standard Bronze Accreditation 2023
The Inclusive Employers Standard (IES) is more than an inclusion accreditation. It is a framework to support organisations to deliver their inclusion and diversity strategy. Importantly, it is a continuous process that supports organisations wherever they are at on their inclusion journey.
The wellbeing of women menopause workplace pledge
In signing up, Reed commit to: Recognising that the menopause can be an issue in the workplace and women need our support. Talking openly, positively and respectfully about the menopause. Committing to actively support and inform our employees affected by the menopause.
Significant change takes time. We are proud of our accomplishments, but we still have a way to go.
As we strive to do better, Reed will remain fair, open and honest with inclusion.
Love Inclusion – News And Updates
Your New Career Starts Here...