1960: Humble beginnings…
Reed was founded on 7th May 1960, with the first office located on Kingsley Road, Hounslow (West London). In the early 1960s Reed pioneered specialist recruitment services; a move that fundamentally changed the UK recruitment market.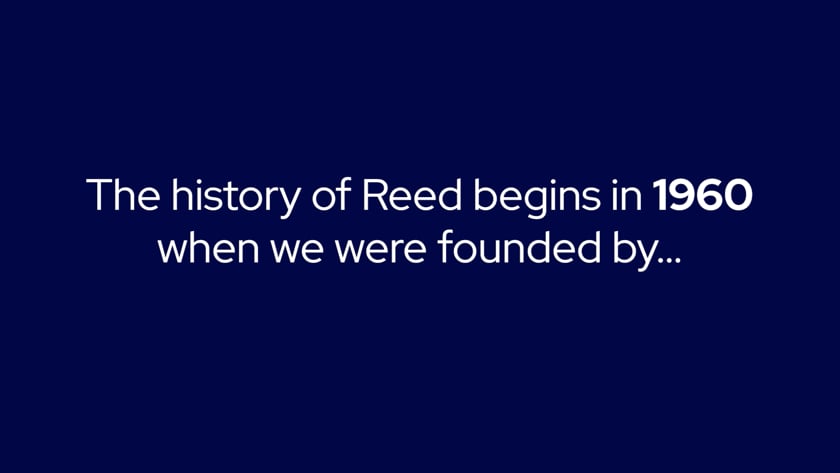 1972: Educate to accumulate
Sir Alec Reed founded the Reed Business School in a Cotswolds manor house to provide a learning centre for Reed co-members and residential courses for accountancy students. The Reed Business School has even been listed as one of the most beautiful places to study in the world.
1995: Online revolution
Reed became the first high street recruitment company in the UK to have a presence on the web. Today Reed.co.uk is a leader in digital recruitment services, used by 85% of the UK's top 100 recruitment agencies.
1996: Reed Learning
Launched in 1996, Reed Learning became one of the UK's leading business training providers. It was the first provider to launch Green Learning courses, an exclusive training partner to Google and winner of several national training awards. Reed.co.uk is now the home of thousands of online learning courses.
1998: Welfare to work
Established in 1998, Reed in Partnership was one of the first employment support service providers in the UK, with a single office in Hackney. Today Reed in Partnership offers services to boroughs throughout the UK, fulfilling its mission to positively transform people and their communities.
2004: Reed Talent Solutions
Our consulting business, established in 2004, has helped numerous customers save millions of pounds by changing how they approach resourcing. Now known as Reed Talent Solutions, they continue to change the workplace for the better for organisations large and small.
2007: The Big Give
theBigGive.org.uk is a non-profit, charitable website that enables donors to find and support charity projects in their field of interest. Since its launch by Sir Alec Reed CBE in 2007, The Big Give has raised over £100 million. Each year Reed offices across the UK support local projects through the Big Give Christmas Challenge.
2018: Apprenticeship scheme launched
Reed was the first employer in the UK to offer both the Level 2 Recruitment Resourcer apprenticeship and the Level 3 Recruitment Consultant apprenticeship. The program was a success, achieving several accolades including being listed as one of The Job Crowd's Top Companies for Apprentices to Work For (2022/23).
2019/20: Leaders in diversity
Reed features in the Financial Times' Diversity Leaders rankings, which focuses on areas of inclusivity such as gender, age, ethnicity, disability and sexual orientation and is based on employee reviews.
Reed ranked 208th in Europe on the published list of 850 companies, 61st in the UK  and 2nd in the recruitment sector. Visit our blog for more information.
2020: Reed becomes an approved Kickstart provider
Kickstart is a government scheme that aims to get more 16-24-year-olds into employment. Engaged employers provide a 6-month training programme to such individuals, covering all costs from the dedicated £2billion government fund.
As an approved Gateway Provider, Reed can work with employers who want to offer Kickstart placements in their organisations but may not have all the resources needed to support a Kickstarter.
2021: Covid-19 response award
Reed received Management Today's 'Special Recognition Award: 'Response to Covid-19'  for the support provided to others throughout the pandemic.
We were awarded in recognition of the actions taken to help provide relief and support to those negatively impacted by the pandemic and for being a leader in the economic fightback against the downturn caused by the virus.
2021: A reimagined Reed & Reed.com
In June 2021, all brands within the Reed Group underwent a refresh. New logos, colours and a tone of voice match our values and mindset and help us communicate and engage better with our customers and candidates.
Reed remains a technological leader in the recruitment sector. Externally all our services can now be found in one place via Reed.com. Internally, our co-members have access to a wealth of technology that enables them to deliver results for our clients, whether they are working from an office, from home or while on the move.
2021: Reed Franchise Partnerships
Reed Franchise Partnerships' purpose is to share knowledge and experience with partners further afield. With the help of our experienced team members, our new international partners are starting on recruitment journeys which we hope are as long and fruitful as Reed's.  
This coincides with the launch of Reed.com, a place where we can connect businesses and managers to the right candidates and provide a hub for resources, recruitment news and industry insights.  
Today
Reed is the largest family-owned recruitment business globally and works with more than 10,000 client organisations from 425 business units globally. We are proud of our 60+ year history spanning business, learning and philanthropy.
Explore this website to find out more about how we can offer access to a huge range of opportunities to develop your career with Reed. See what roles are on offer across our companies, and hear real stories from just some of our 3,400 people about what it's like to work here.
Your New Career Starts Here...