Undergraduate placement
Designed for students currently studying towards their degree, our placement scheme offers unrivalled experience with the world's largest family-run recruitment company.
As a placement student, you'll spend 12 months gaining industry knowledge and developing your skills to help you succeed in your final year of studies and beyond.
It's not just about the day-to-day job. There are plenty of events to get involved in too, including networking days and shadowing days with different parts of the business so you can explore other avenues you see your career heading towards.
Wherever you join Reed, you'll be given real responsibility from day one.
What's more – there's also the opportunity to secure an offer for our graduate training scheme. This means you can go into your final year of studies knowing that you've got the start of your graduate career covered.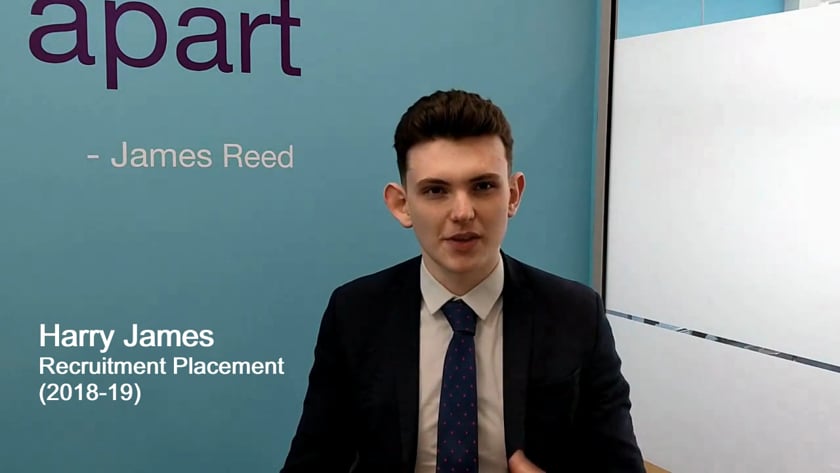 Recruitment placement year
£18,000 (up to £22,000 in London)
12-month placement (July—July)
Full Time (37.5 hours per week)
UK-wide office locations
Applications for placements in 2022 are now open – Click here to apply!
Online Application Form
You will be asked for your contact details, education history and eligibility to work. Along with this, we want to know why you want to work for Reed. You can find out more information about the business throughout this site, including Rewards on offer to all co-members, and the History of Reed.
Situational Judgement Test
This test will give you a realistic previous of a typical consultant within Reed. You'll need to decide on the most desirable response to the situation you are faced with. Sample tests are available here.
Telephone Interview
A member of the Early Careers Team will speak to you to find out more about your motivations and suitability to Reed. Come prepared – you'll be expected to showcase your knowledge of the recruitment industry and Reed. This is your chance to put forward your skills and experience to prove you're the best person for the role.
Telephone Roleplay
You'll take up the role of a Resourcer at Reed calling a candidate (played by an assessor). You'll be given a detailed brief and need to use your skills to sell the job opportunity to the candidate.
Interview
Depending on your location and availability you will be required to attend at least one interview with a Business Manager and/or Area Manager to determine your suitability for their office. If successful, an offer will be made to you with an agreed start date in July.
Our recruitment pathway will put you at the heart of the agency. You'll be working with our candidates to ensure that they find opportunities that make them Love Mondays again.
This will involve using new technologies (candidate databases, social media etc.) with a few more traditional methods (telephone, events, and face-to-face meetings) to ensure you and your team meet demanding commercial targets to help the business grow.
You may be eligible for a performance-related bonus in the role, so the more candidates you help, the more money you can make!
Roles are office-based across the UK with occasional travel to client meetings or our award-winning training programmes.
Your New Career Starts Here...