Undergraduate Placement Scheme
The Reed Undergraduate Placement Scheme is being relaunched, after three successful years of running prior to the pandemic.
Your 12-month journey with us…
Why Join Reed?
We place a special focus on developing emerging talent and our track record of producing industry leaders for over 25 years shows that we're good at it.
As a family business with a global reach, there are plenty of opportunities for high-potential individuals to blossom and develop.
We have successfully created a supportive environment where careers are developed and futures are forged.
Feel what it's like to truly belong.
Events
Watch this space for dates when our Early Talent team could be visiting a university near you!
Saveena Randhawa
Early Careers Manager – Reed Group
Undergraduate Placement Scheme
£20,000 (£24,000 in Central London)
12-month placement (July—July)
Full Time (37.5 hours per week)
UK-wide office locations
12 months of #LifeAtReed
Check out this video to see everything a placement year with Reed could offer you, direct from one of our alumni…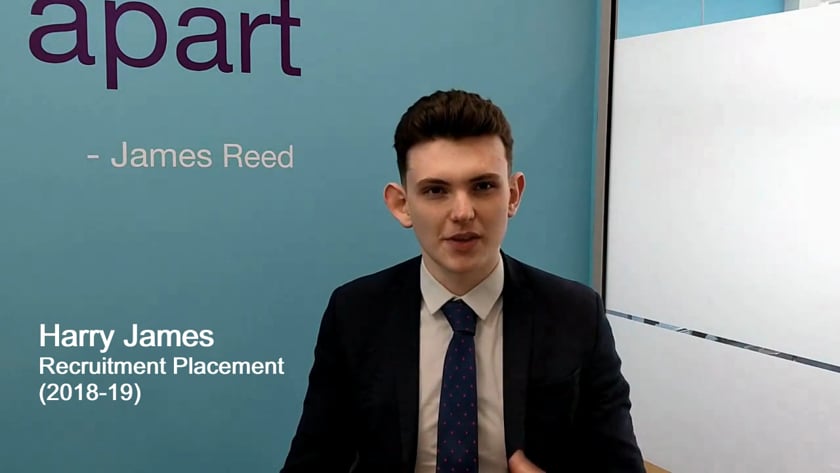 Connor Pike
Senior Executive Temporaries Consultant
Alumni
The Placement Scheme for me was a perfect foot in the door to what I wanted to achieve. I didn't know exactly which way I was planning to head in my career but knew that the transferable skills gained from the placement would ensure that I would be in a great position on the graduate job market. Not only did I use knowledge and examples gained from my placement scheme to achieve a 1st class honours degree in my final year at university, I graduated with a clear career path and guaranteed role which was already halfway up the career ladder.
Hamza Ali
Account Manager
Graduate Scheme co-member
The Reed Undergraduate Placement Scheme has helped me develop on key soft skills such as time management, teamwork and communication which are not only valuable assets for university, but also for your professional career. Furthermore, a placement year is something that enhances your CV and gives you that competitive edge over your fellow peers. Having gone through the undergraduate scheme, I am now on the Reed Graduate Scheme which has allowed me to explore my career options, as I amexposed to different parts of the business, and helped me build a network of industry professionals.
Toby Moyse
International Franchise Systems Lead
Graduate Scheme co-member
The year-long scheme helped me to obtain skills and experiences that I never would have had the opportunity to gain elsewhere. I gained an in-depth understanding of the recruitment industry which I put to good use after finishing my degree. The Reed Undergraduate Placement Scheme was extremely useful for me as I am currently now a co-member on the Reed Graduate Scheme, and I cannot overstate its importance in shaping my career.
Selina Khera
Senior Talent Sourcing Specialist
Graduate Scheme co-member
The Reed Undergraduate Scheme has been a fantastic opportunity for me to get such breadth of experience so early in my career. It has enabled me to develop and enhance many skills and have first-hand insight into the world of recruitment. Not only was I able to network and have exposure to different areas of the business the Undergraduate Scheme enabled me to get a place on the Graduate Scheme and have a job offer straight out of University.
Your New Career Starts Here...