Screening & compliance
Located in the heart of Manchester, our screening and compliance teams provide vital pre-employment checks for Reed clients worldwide.
Over 140 co-members from various backgrounds work together to ensure excellent customer service is delivered 24 hours a day, seven days a week.
Fusce enim orci, fringilla vel congue quis, suscipit eget nulla. Phasellus interdum vitae magna sed scelerisque.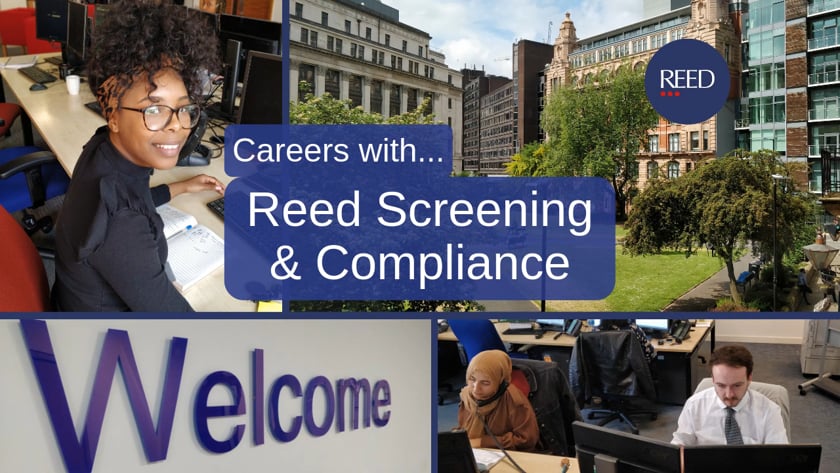 At Reed, we aspire to positively impact society through our work and our commitments to charitable causes. Our mission is to 'Help the World Love Mondays', and our shared purpose is improving lives through work.
Check out the video to hear from some of our team leaders, based in our Manchester offices, about how their work relates to our purpose of improving lives through work.
We are one of the UK's largest pre-employment screening businesses with over 140 specialists, operating 24 hours a day, seven days a week. Every year, we complete over 350,000 end-to-end candidate vetting checks, over 170,000 references and over 60,000 police checks. In addition, we have 50+ years of recruitment experience to draw on, making us experts in the recruitment journey.
Find out more about services on offer at reedglobal.com.
"It's essential that organisations protect themselves with a high-quality pre-employment checking process. We offer peace of mind so clients can recruit the best talent, without the risk."
Keith Rosser, Director
Check our job board/jobs listed below for any current vacancies. Typical job titles found in our Manchester screening offices include:
Screening manager
Screening executive
Screening administrator (including shifts overnight)
Screening team leader
Screening and compliance projects manager
Weekend screening administrator
Rewards At Reed Talent Solutions…
Wellbeing Centre
Co-members can access information around healthy living, financial advice and more.
Sabbaticals
Paid sabbaticals for continuous service.
Holiday Scheme
Option to carry forward, buy or sell 5 days holiday per annum.
Personal Development Fund
Gain sponsorship for personal development courses.
Give As You Earn
Co-Members can make tax efficient donations to one or more charities of their choice.
Moving Home Leave
We offer a days paid leave to help Co-Members when moving home.
Refer a Friend
Get rewarded for referring friends, network or family into Reed.
Professional Qualifications
Sponsorship for professional qualifications.
Locations
Screening and compliance can be found on Manchester Deansgate – easily accessible via public transport.
Career progression
Reed values commitment and results, which is why the majority of our team leaders and managers were promoted from entry-level positions in our teams.
Learning & development
When starting at Reed you will receive excellent on-the-job training from your peers combined with online modules and courses delivered by our L&D team.
Our latest stories…
Check out our blogs below to hear about #LifeAtREED from some of our current and previous co-members, as well as company news, insights and advice…
Your New Career Starts Here...