REED One of the Best Places to Work 2020
REED has consecutively been voted one of the best places to work by existing and former Co-Members in the Glassdoor Employees' choice awards.
REED is the only Recruitment Company to have been placed on the UK top 50.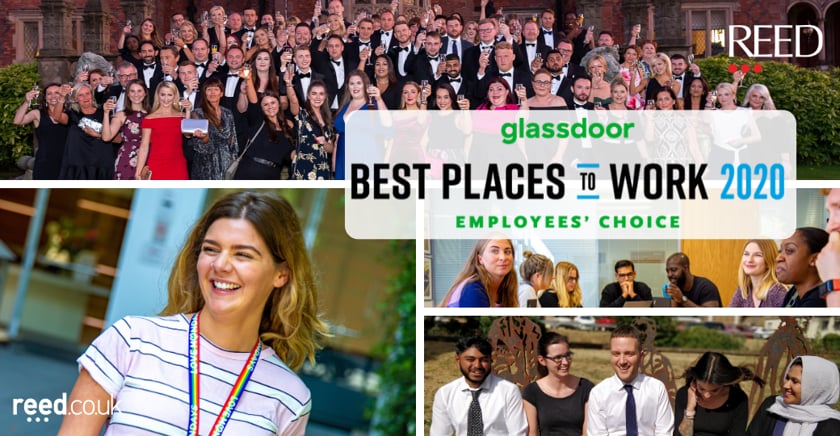 The employees' choice accolade is one of the best you can receive as a business, unlike other workplace rewards, there is no self-nomination process; winners are determined solely based on feedback provided by those who really know the company best – our Co-Members.
The Best Places to Work 2020 list is determined by reviews and ratings left in the last year, which are judged on quantity, quality and consistency. View the full list here.
Some of the consistent areas highlighted in reviews are…
"The trainers at REED are great… Better than anywhere I have ever been before!"
At REED we have a dedicated in house Learning & Development team, offering a blended approach of classroom, on the job and digital learning.
Our Purpose is "Improving lives through work".
We believe in building businesses for the benefit of society and we are proud to make a positive difference to people's lives. That starts with rewarding our own Co-Members for their hard work and dedication.  From events celebrating high achievers, to professional and personal development funds and the infamous long service sabbaticals. We are confident that there is a reward for everyone.
The People
So many of our reviewers reference the people they work with. At REED we hire people that share our values:
We are fair open and honest
We take ownership
We work together
Follow #LifeAtREED
Make sure to keep up to date with our Co-Members sharing their experiences by following #LifeAtREED on social media and our Careers at REED Facebook and Twitter channels.
Add to Our Story…
If you're looking to take the next step in your career with an employer that cares about its people and its role in society then search our jobs for vacancies in your local office.
Your New Career Starts Here...